Photo from weheartit, don't you just love weheartit?
This post is not exactly what this picture implies - i just thought it was - pretty. It's not a wish list of deep, meaningful bucket-list-type desires i will probably never even do... It's a wish list almost like a shopping list or birthday list. Except it's not quite my birthday *cough cough *2 months-ish *cough *4th October...
Here it is, maybe a little ambitious but like i said, it is a wish.
This kimono jacket is from
Miss Selfridge
my favourite high street shop for detail and quality. (H&M is my other for value)
The feminine, Japanese style kimono jacket has white lace sleeves and i am uncertain what fabric it is made of yet from the expensiveness (for high street prices) i am sure it is a good, comfortable material.
Unfortunately the jacket of my dreams is unavailable on the online store therefore must be completley sold out or the site hates me :(
I am ambiguous i will ever find one unsold unless i can buy one second hand.
This is not a fashion or beauty wish - although it could pass as an accessory i suppose!
No, i do not know how to skateboard but i would love to learn. When i was little Avril Lavigne was an icon of mine, after watching many of her music videos, when most of time she and her band were skating around, i have wanted to join in on the action.
I have always been a super girly girl yet a rocky, indie me is still there on the inside so this
penny board
with pastel mint and lilac wheels is
very
much me.
This is the
Barry M lip paint in touch of magic
. Now don't be fooled by the green colour because once you slick it across your lips the colour will change to a pinky red colour. The shade it comes out is determined by your lips alkali level. Clever yet a great way to suit the perfect shade of lippy to your tone of skin!
I do not know what colour it would come out on me though so this is just a product i find cool, i don't necessarily want it.
I would LOVE a limited edition Diana camera, but especially this "love is in the air" cloud print pastel one.
The over-sized flash looks SO retro and i already have an SLR camera, which is a very good one, but this camera is one to take out to picnics in the park and cute country walks with friends...can't you just imagine taking this to the beach? I get excited thinking about having this camera - how sad.
The Diana cameras' also come in other colours: i have seen mint, blue, pink and yellow.
P.S. i wouldn't mind a pink one either...or aswell ...and also a pink polaroid please... ;)
Also on my wishlist is purple and pink mascara! These two are from
Butter London
and are called WINK mascara in Indigo punk and Pistol pink. Butter London have really good quality products and their nail varnishes are creamy and stay on forever, but then again i do NOT bite my nails!
I don't really mind where i get the mascaras from i just love the prettiness of coloured mascara and if you wear a similar toned one to your eye colour BOOM your eyes will look brighter (blue, in my instance). Who doesn't love pretty eyes?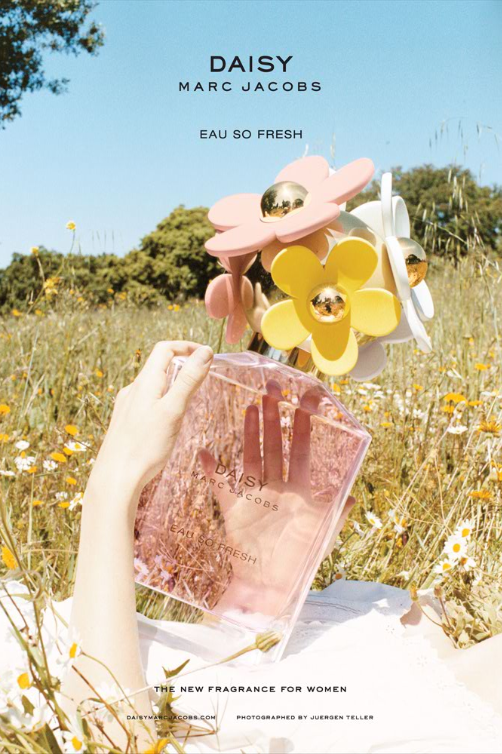 Lastly on my wish list (not exactly the last thing i would love to have; a ticket to 1d or disney world? ) it's the Marc Jacobs Daisy perfume!
The advert for this and the bottle are why. The cute daisies, boho, girly and vintage theme seem so airy fairy that i just need to have a sniff of it.
Every time i walk past a tester bottle i drench myself in it's wonderful, fresh and floral scents and come out smelling like i had just ran through a field of flowers, got attacked by potpourri or had a bath in it!
I must say if i had a bottle of Daisy i would use it a little more sparingly haaha.
Just saying but i will probably not be able to get ANY of these products, i am not rich...apart from the barry m lipstick i may be able to afford out of paper-round money (not even joking. Yes. I am a paper girl)
Byeeeeeeeee :)